Internet Cafe Manager
Internet Cafe Manager is the ideal solution for Internet Point software management.

ICM has a simple, straight-forward and friendly user interface that allows you to perform easily all the following tasks:

1) Workstation management with connection cost monitor

2) user profile management

3) Custom statistics and searches on executed connections.

4) Connection data export to Excel files for further elaborations.

5) Log of all web sites visited by each user.

6) Pre-paid credit management without using Smart Card.

7) Print of executed connections for authority checks.

8) Fares management: no limit to the number of definable fares, even customizable for each user. 5 different cost bands can be defined for each fare.

9)

Print management and automatic print cost accredit.

10)

Possibility to send messages from the server to clients.

11)

Possibility to interrupt connection, restart or shut down any client from the server.

12)

Manual or scheduled backup of all data.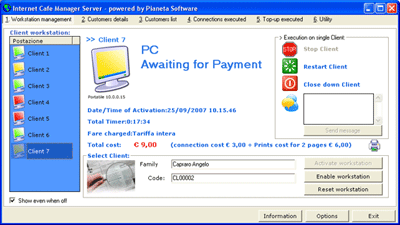 All above features do not require any additional hardware, therefore they are available without any additional cost.



Download ICM presentation (.pdf)