Internet Cafe Manager --> Connections statistics
This mask allows a powerful and flexible management of executed connections.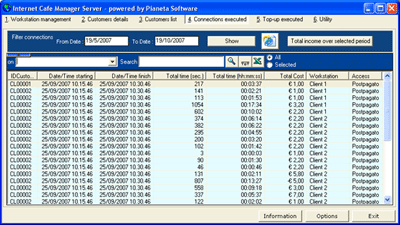 With a simple click on the head of any column, it is possible to sort above table for relative field. A further click on the same column head will sort the table for decreasing order.
For any field, it is also possible to run a search using the special character * and %.
The TOT button runs the calculation for the numeric fields (Total time, Total cost), even for the selected items.
The X button allows to export all data concerning the selected connections to Excel file. In this way further data elaborations can be performed.

Download ICM presentation (.pdf)